Contact Information:
Phone: (770) 832-8588 ext. 2
Email: drew.veal@carrollcountyschools.com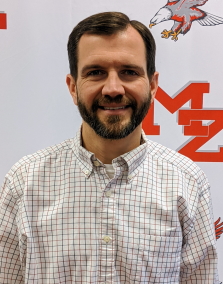 My name is Drew Veal, and I have had the privilege of working with students at Mt. Zion Elementary since the 2008-2009 school year. Prior to working at Mt. Zion Elementary, I worked in community mental health at Tanner Behavioral Health (now known as Willowbrooke at Tanner) for seven years. In 2003, I earned a Bachelor's degree in Psychology from the University of West Georgia (Go West! Go Wolves). In 2006, I earned a Master's degree in Professional Counseling from Georgia State University (Go Panthers!). I have a beautiful wife, and two wonderful children.
I absolutely love being a Mt. Zion Eagle and I am honored to be able to work with the students here! Please review the information on this website to learn about the support and resources available for students. If you have any questions, please feel free to contact me with the information provided above.
What is the Role of a School Counselor?
The following is an excerpt from the American School Counseling Association discussing the typical daily activities and role of a school counselor:
"School counselors help all students:
apply academic achievement strategies

manage emotions and apply interpersonal skills

plan for postsecondary options (higher education,




military, work force)
Appropriate duties include providing:
individual student academic planning and goal setting

school counseling classroom lessons based on student




success standards

short-term counseling to students

referrals for long-term support

collaboration with families/teachers/ administrators/




community for student success

advocacy for students at individual education plan meetings and other student-focused meetings

data analysis to identify student issues, needs and




challenges"
Local Resources & Important Information
Digital Learning Resources

Our "Big Idea" for the month of April is "Humility." The definition of humility that we are focusing on is putting others first by giving up what you think you deserve. What is it that makes us think we deserve to be first in line, to have everyone's attention, to be the star? What makes us think we are more important than other people? Whether it's holding the door for someone or letting your little sister have the last piece of cake, when you show humility, you're actually honoring the worth of another person – which makes you pretty special...in a humble sort of way, of course...
Our animal that serves as our mascot for the month of April is Hubert the hedgehog. Hedgehogs are shy and gentle creatures, which makes them a perfect example of humility. The color for the month of April is gray. Sure, there is nothing flashy or exciting about gray, but that's the point isn't it? Humility is all about not being flashy, but instead focusing on how you can serve others.
Look for our daily announcements on Class Dojo and Facebook that focus on how we can apply this important "Big Idea" to our daily lives...