Contact Information:
Phone: (770) 832-8588 ext. 2
Email: drew.veal@carrollcountyschools.com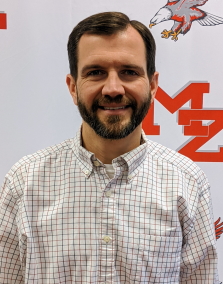 My name is Drew Veal, and I have had the privilege of working with students at Mt. Zion Elementary since the 2008-2009 school year. Prior to working at Mt. Zion Elementary, I worked in community mental health at Tanner Behavioral Health (now known as Willowbrooke at Tanner) for seven years. In 2003, I earned a Bachelor's degree in Psychology from the University of West Georgia (Go West! Go Wolves). In 2006, I earned a Master's degree in Professional Counseling from Georgia State University (Go Panthers!). I have a beautiful wife, and two wonderful children.
I absolutely love being a Mt. Zion Eagle and I am honored to be able to work with the students here! Please review the information on this website to learn about the support and resources available for students. If you have any questions, please feel free to contact me with the information provided above.
What is the Role of a School Counselor?
The following is an excerpt from the American School Counseling Association discussing the typical daily activities and role of a school counselor:
"School counselors help all students:
apply academic achievement strategies

manage emotions and apply interpersonal skills

plan for postsecondary options (higher education,




military, work force)
Appropriate duties include providing:
individual student academic planning and goal setting

school counseling classroom lessons based on student




success standards

short-term counseling to students

referrals for long-term support

collaboration with families/teachers/ administrators/




community for student success

advocacy for students at individual education plan meetings and other student-focused meetings

data analysis to identify student issues, needs and




challenges"
Local Resources & Important Information
Digital Learning Resources

Our "Big Idea" for the month of March is "Forgiveness." When someone says, "I'm sorry," we often hear others respond by saying, "that's okay." This response often makes forgiveness difficult. Usually, whatever action someone took that wronged you was not okay. Otherwise, they would not be apologizing. That's one of the many reasons why we are focusing on forgiveness this month. Instead of forgiving someone by saying, "that's okay," we are teaching students that forgiveness is deciding that someone who has wronged you doesn't have to pay for their actions. When seen in this light, forgiveness is much more beneficial to the one who is giving forgiveness, rather than the one who has apologized. When our minds are focused on revenge, anger and negativity fills us and makes us bitter. When our minds are focused on forgiveness, we can move past the wrong that has been done to us and focus on the more positive aspects of our lives. It is also helpful to remember that no one is perfect, and that we all are in need of forgiveness at times. Forgiveness is truly a life skill from which all of us can benefit. I hope that you will join us in teaching (and learning) about forgiveness this month, and the enormous value it has in all of our lives.